De Golden Retriever blinkt uit in veelzijdigheid en door zijn trouwe karakter erg geliefd is als gezinshond. Dit ras kan het beste worden beschreven als energiek, trouw en gehoorzaam. Ze leren snel en hebben een grote will to please, waardoor het fijne honden zijn om mee te werken. Het is niet verbazend dat deze goedmoedige honden vaak worden gebruikt als hulphond.
Wat bij een Golden Retriever van belang is om te weten is dat het jachthonden zijn en dit betekend dus ook dat dit ras een jachtinstinct bezit. Dit houdt dus in dat ze tijdens het wandelen opzoek gaan naar geursporen van wild en als ze die hebben gevonden deze dan ook zullen volgen. Loslopen zonder dat de hond verdwijnt zal dan ook veel geduld en opvoeding vergen.
Dat de Golden Retriever erg geschikt is als gezinshond komt door hun zachtaardige karakter en hun rustige omgang met kinderen. Nimmer zullen deze honden bijten zonder dat daar een duidelijke aanleiding voor is. Ondanks dat is het toch van belang om in het achterhoofd te houden dat Goldens honden blijven en het niet verstandig is om deze alleen te laten met kinderen, hier kunnen namelijk ongelukken van komen.
De Golden Retrievers zijn erg sociale honden, zowel naar mensen als naar andere honden, en dit maakt ze daardoor geen goede wakers. Dit ras staat bekend als allemansvriend en ze zullen dan ook iedereen vrolijk en met enthousiasme begroeten. Het kost tijd en opvoeding om de hond aan te leren dat het niet de bedoeling is om op straat naar iedereen toe te gaan. Dit ras hecht zich sterk aan zijn familie en is niet geschikt als buitenhond, omdat ze de aanwezigheid van de roedel nodig hebben.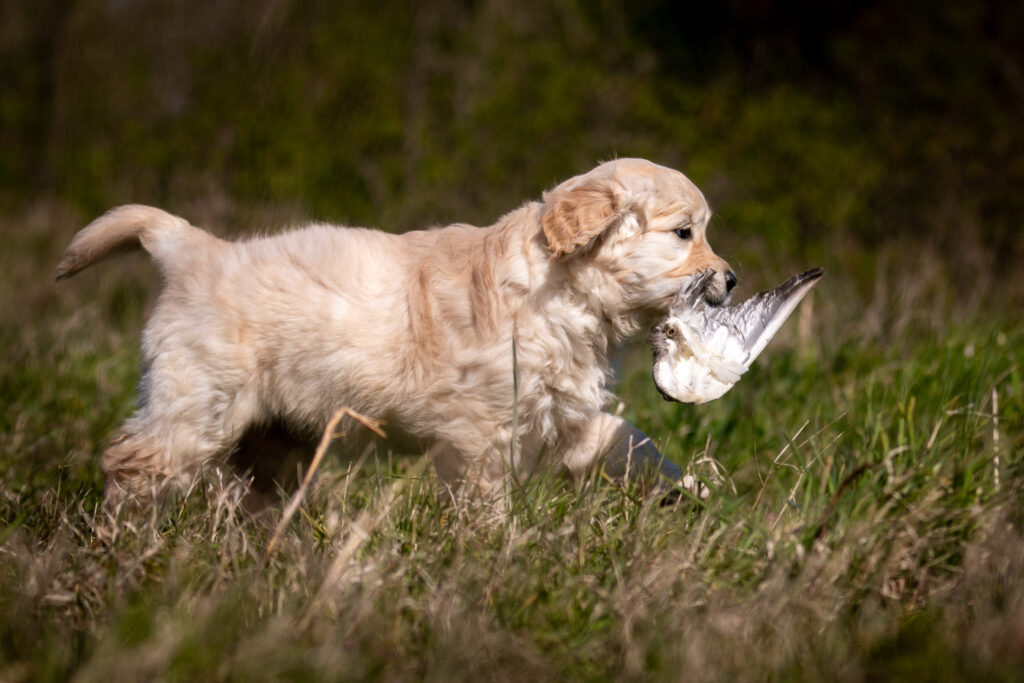 Iedere hond heeft een specifiek karakter en kan de hierboven beschreven eigenschappen in sterke of in minder sterke mate beschikken.